Homestead in GJ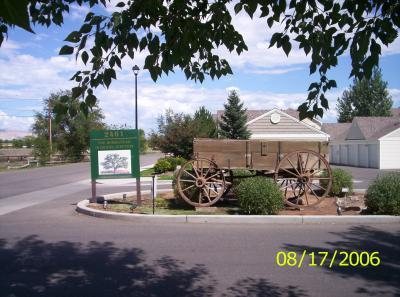 06/03/17--The pool has opened for the season and as a friendly reminder a membership fee ($225) is required to utilize the pool. A meeting will be held from 10 am to noon to pass out keys and ID cards, and to sign and review the pool rules. If you still want to sign up, you can bring a check for your fee to this meeting. IF you can't make this meeting, please see Tammy (#312), CJ (#822) or Nancy (#231).
4/21/17---US Lawns has gotten the water turned on for the lawns with one exception--bldg 4 will not be available until next week as the timer needs to be replace.
4/7/17--LANDSCAPE UPDATE:
1. US Lawns will be doing the spring start up of sprinklers on Thursday, April 20.
2. Normal landscape maintenance for the 2017 season will be Tuesday of each week.
4/5/17--Jerry's Pest control will be on-site on Thursday, April 6 at 10am to treat the foundations of each building [excluding garages] for creepy crawlies. Treatment for hornets & wasps will be done later in the spring. They will continue the foundation treatments throughout the summer on the 1st Thursday of each month.
4/3/17--US Lawns will be in the Homestead neighborhood to do spring clean up on Wednesday, April 5.
3/28/17--The Board of Directors for Homestead was elected at the annual meeting which was held in January. The current Board of Directors is : Tammy Parece [#312]; CJ Nelson [#822]; Nancy Laramie [#231] and Kenneth Nelson [owns #212].
3/28/17--Several owners have called regarding a bill they received from the Grand Valley Drainage District. 2016 was the first year that these fees were assessed and they are figured based on some complicated algorithm. You can visit their website at www.thedrainage district.org] and your questions may be answered there. There is a link there for you to contact them if necessary. These are not associated with the HOA at all but with the fact that you are a homeowner in the Grand Valley. These bills are something you will need to pay.
1/26/17-The annual meeting was held on January 23, 2017. Minutes are posted below.
Homestead in Grand Junction HOA Rules and Regulations may be found under Policy and Procedures.
Insurance information; contact Mike Daniels at American Family 241-6132.
Welcome to the Heritage Family of Services! All questions should be directed to Hilary at info@hpmgj.com. We are excited to work with you and assist you in the support of your HOA. Please let us know how we may serve your needs!
Minutes
Custom Documents
---