Brookside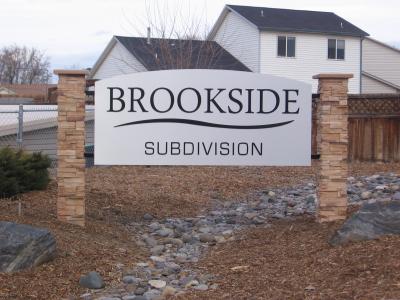 12/15/17--A dues increase was passed at the Annual Meeting held on December 4th, so the annual dues were increased to $310.00. Also, 2018 statements will be mailed out before January 15th and homeowners will have until March 1, 2018 to pay their annual dues. At the meeting it was decided to delay the due date for annual dues to allow individauls to recoup from the Holiday season.
12/12/17-- The Annual Meeting was held on December 4th. Minutes are posted below.
10/23/17--Peaceful Valley will be out Thursday, October 26th to winterize Brookside's irrigation system. They are requesting all homeowners make sure their valves are shut tight for the winterization process.
4/10/17--IRRIGATION UPDATE: Please ensure the main valve to your yard is CLOSED on MONDAY, APRIL 17 so the irrigation system can be pressurized and checked. If there are no problems. irrigation water will be available to homeowners later that evening. If your valves are not closed and Peaceful Valley has to access your yard to close it, there will be a $75 charge to that homeowner
12/8/16--Snow removal--must be done within 24 hours after snow stops and there is more than 2" accumulation. The city of Grand Junction can assess fines if public sidewalks are not cleared according to those guidelines. The HOA will remove snow from the sidewalks around the park/common area and the mailbox areas. Homeowners/residents are responsible for removing snow from the sidewalks in front of their homes, from their individual driveways, and their private walks.
5/4/16--Portable basketball hoops are not allowed to remain on the streets or the sidewalks when not in use; they must be moved back onto you private lot! Violations can be reported to Grand Junction Code Enforcement.
BROOKSIDE HOT TOPICS--Mar 2016
1. Concerns about what your HOA dues pay for has been raised and we would like to hopefully clear that up. Your dues pay for normal operating expenses within the neighborhood: Electricity for the pump & pumphouse, insurance for our common areas, maintenance [mowing, weed control] of the HOA grounds, and management fees. Any excess funds are put into a savings account which is used to pay unexpected bills such as sprinkler repairs, irrigation pump repairs, or replacing/repairing items in the park area.
2. The picnic tables in the park area have been damaged beyond repair and the parts will be removed this weekend. This is a neighborhood park and it is up to everyone to take care of it. Renters are reminded that you are subject to the same Rules & Regulations as homeowners. Those are posted here on the website for your reference.
BROOKSIDE HOT TOPICS--Feb 2016
In the interest of keeping Brookside homeowners/residents informed of what your Board is doing, we are implementing this posting. First of all, your Board will do whaterver they can to improve thei subdivison and will consider all homeowner suggestions, Please keep in mind, however, that suggestions that conflict with the CC&Rs or established Rules & Regulations [R&R], will not be implemented. CC&Rs and R&R are posted elsewhere on this website.
Following are the current concerns:
1. Trash cans in view from the roads. The CC&Rs and R&R both state that garbage cans must be stored out of sight exept on trash pick-up day. They must be placed BEHIND fences, INSIDE garages, or somewhere out of view. It is also city ordinance that containers not be left on the sidewalk after pick-up day.
2. Derelict vehicles within the neighborhood. The short answer is a vehicle is derelict if it is in plain view from the street and without current plates and registration visible. Again, the CC&Rs and R&R state that inoperable, unlicensed, and unused vehicles must be stored in your garage, behind a privacy fence, or removed from the subdivision. Additionally, derelict/inoperable vehicles are also addressed in the GJ City Ordinances. According to the city ordinance, inoperable vehicles are considered 'outdoor storage' and must be screened from view.
3. Vehicle repair being done in driveways. The CC&Rs allow ordinary maintenance and minor repairs of your own vehicle to be done in the driveway. (this would be things such as oil changes, washing and waxing, etc) Major repairs or restoration must be done inside the garage or behind the fence.
REMINDER: Please remember that Colorado law prohibits parking your vehicle within 15' of a FIRE HYDRANT!!! It has been reported that many residents/visitors to Brookside are violating this. The police/sheriff will be called and tickets will be issued.
All questions should be directed to Hilary at info@hpmgj.com. We are excited to work with you and assist you in the support of your HOA. Please let us know how we may serve your needs!
Minutes
Custom Documents
---