Paradise Hills Filing No 6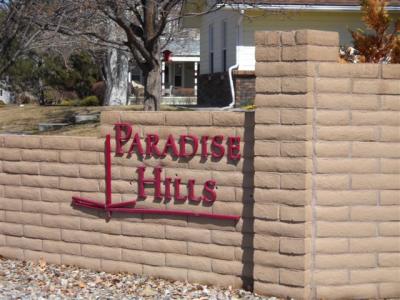 7/6/18-- Please see the Irrigation Notice below regarding the low pressure.
03/15/18--Irrigation for the 2018 season will be turned on Saturday, April 14th. To prevent damage to your individual system, please ensure your main valves are CLOSED before that time. Irrigation water will be available for this season as follows:
SATURDAY, APRIL 14TH--9am - 5pm
SUNDAY, APRIL 15TH--9am - 10pm
STARTING MONDAY, APRIL 16TH DAILY HOURS WILL BE-- 4am - 10am & 4pm - 10pm
03/14/18--The Annual Meeting for Paradise Hills Filing 6 was held on Wednesday, March 14th at 6 pm at First Prebyterian Church in the Gathering Place room. Minutes have been posted below.
----------------------------------------------
If you have questions or problems to report, please contact Mark DeWolfe, 970-260-2094.
If you have any questions or problems to report, please contact one of the Board Members or Heritage Property Management.
Mark De Wolfe - 260-2094
John Feild - 245-5313
Cheris Campbell
Chuck Clarkson - 970-985-5799
Heritage PM - 243-3186
Welcome to the Heritage Family of Services! All questions should be directed to info@hpmgj.com. We are excited to work with you and assist you in the support of your HOA. Please let us know how we may serve your needs!
Minutes
Custom Documents
---