Monarch Glen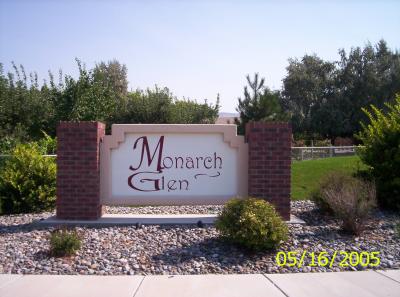 1/26/18--The Annual Meeting for Monarch Glen was held on January 25th and notes are posted below.
10/12/17--Irrigation water will be turned of October 30th.
4/17/17--IRRIGATION WATER IS NOW AVAILABLE TO ALL MONARCH GLEN HOMES!!! The leak has been repaired. Thank you for your patience.
4/11/17--Irrigation has been turned off in order to repair a leak. Irrigation water will be unable until further notice when those repairs can be be completed.
4/5/17--Irrigation water will be turned in the Monarch Glen system on Sunday, April 9 and will available to homowners after is turned on and the overall system checked at 9am.
4/4/17--ALL MONARCH GLEN RESIDENTS: PLEASE CLOSE YOUR MAIN IRRIGATION VALVE SO WHEN THE MAIN SYSTEM IS PRESSURIZED, NO DAMAGE WILL OCCUR TO YOUR INDIVIDUAL SYSTEM!!
4/26/16--Parents: Please remind your children not to run through neighbors' yards as that is private property. We have received reports that children are running through yards and making a mess.
Board members are: Linda Norman, Bonnie Higgins, Robert Budeau & Diana Aragon.
Insurance Information contact: John Geer @American Family Insurance 970-241-0078.
Welcome to the Heritage Family of Services! All questions should be directed to Hilary at info@hpmgj.com. We are excited to work with you and assist you in the support of your HOA. Please let us know how we may serve your needs!
Minutes
Custom Documents
---