Pheasant Ridge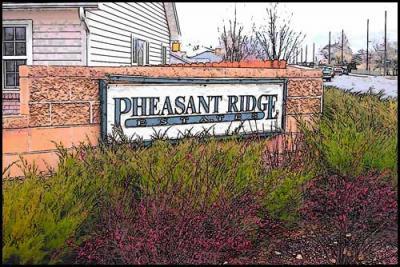 2/27/2020 - The Annual Meeting was held on January 30, 2020. Meeting minutes are posted below.
10/31/19 - The Board of Directors would like to thank those who help out by pulling weeds or picking up trash, it is greatly appreciated! Also there is a problem with a lawn bug in the common area. The HOA is working with LiquiGreen to correct it, but will have to wait until spring to continue. Hopefully the green grass will be back next season.
______________________________________
HOA Dues: $165/quarter (due 1/31, 4/30, 7/31, 10/31) ** increase was approved at the 2020 Annual Meeting (see minutes below)
Please send checks payable to:
Pheasant Ridge HOA
2650 North Ave #116
Grand Junction, CO 81501
Transfer Fee: $100 payable to Heritage Property Management
Insurance Provider: State Farm - Martin Durst 970-242-3202
HOA Responsible for: Management services, Insurance, Taxes, Landscape of Common Area (mowing front yards, shrubs along Patterson Rd), Irrigation System (electricity/ water shares), Fence along Patterson Rd, HOA sign
Schools: Orchard Avenue Elementary, East Middle, Grand Junction High
______________________________________________
Welcome to the Heritage Family of Services! All questions should be directed to info@hpmgj.com. We are excited to work with you and assist you in the support of your HOA. Please let us know how we may serve your needs!
Minutes
Custom Documents
---