Summit View Ridge HOA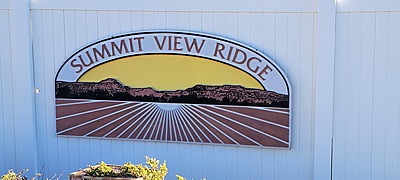 12/01/22 The Board of Directors has chosen Heritage Property Management to assist in the affairs and management of the HOA effective 12/1/22
_________________________________________________________
HOA DUES: $160 / annually
Please make checks payable to:
Summit View Ridge HOA
2650 North Ave #116
Grand Junction CO 81501
Transfer Fee: $100 payable to Heritage Property Management
Insurance Provider: State Farm - Sean Brumelle - 970-523-9700
HOA Responsible for: Management Services, Insurance, Taxes, Lanscape of Common Area, Irrigation System (electricity/ water shares/ turn on and winterize / backflow prevention testing), HOA sign
Schools: Chatfield Elementary School, Grand Mesa Middle School, Central High School
_______________________________________________________________________
Welcome to the Heritage Family of Services! All questions should be directed to info@hpmgj.com. We are excited to work with you and assist you in the support of your HOA. Please let us know how we may serve your needs!
Minutes
Custom Documents
---