Fountain Greens Patio Homes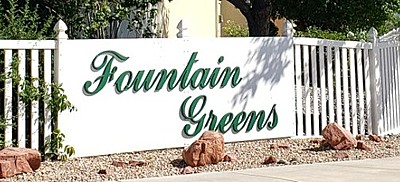 06.01.23 WATER UPDATE: For the FG residents-
Patience will be required during this difficult time as we address the irrigation water delivery obstacles.
Yes...there is a plan for irrigation water maintenance. No.. the final remedy is not going to be quick like a switch. Having irrigation water delivered to the community is not a seamless process. For the uninitiated, the original plan was to hydro vac the irrigation pond during sequential Fall seasons. This approach was hobbled during the attempt to start up the irrigation loop this season once it was determined that the intake pipe was caked with river silt, this reduced the water volume being drawn into the primary pump that charges the irrigation loop running throughout the community. Not enough water is moving in the intake pipe to charge the system.
The irrigation pond is conical and the areas where silt was removed last Fall have allowed the silt sludge to migrate towards the lower part of the pond where the intake pipe sits some 6 ft below the water line. Removing the silt was in the planning stages a few years ago. The board decided to utilize a low-impact approach that would not damage the community park from the use of heavy equipment and dump trucks to remove the silt which would require additional outlay to return the park to its original aesthetic. This mitigation effort is not working and we are now getting bids to utilize heavy equipment and dump trucks to remove the 3-4ft of silt buildup in the pond over the last 20 years. The pond has never had any silt mitigation prior. The volunteer board is reviewing the bids and will have a plan to mitigate the silt by week's end. This is where we are at. There are no quick solutions and this process will take at least 3-4 weeks to complete. We are not the only community faced with the need to mitigate silt and zebra mussels which diminish the efficiency of irrigation water delivery. Irrigation water surely isn't free and requires this kind of maintenance every 20 years or so. The system we have was not designed with a silt trap, which allows the river silt to accumulate in our irrigation pond. In the meantime, I have advised WD Yards to minimize lawn mowing in areas where the grass is brown and dormant until irrigation water is restored.
Yes, lawns will go brown. If you would like, you can drag out hoses and sprinklers if you have them. Otherwise, the lawns will return to their green state once the silt is removed and the irrigation loop is recharged.
Sincerely,
Jon Conrad
FG Masters HOA Board

05.17.23 WATER UPDATE These are issues with the big pond and a blockage between the pond and the vault. WD Yards will be starting up irrigation systems but as of today (05.17.23), the water is sporadic. Will update as soon as information is received.
05.05.23 Still no update on the pump repair or when water will be on.
05.03.23 MOW DAYS FOR 2023 WILL BE ON TUESDAYS
05.01.23 Information came in that a pump is broken. No estimate on when it will be repaired.
04.10.23 WD Yards will be mowing on Tuesdays.
03.16.23 WD Yards will begin spring clean-up and shrub trimming on March 27th with bed and border spray to begin on March 29th.
02/13/2023 Annual Meeting was held on Saturday, February 11th, 2023 Meeting minutes posted below.
01/12/22 The Annual Meeting was held on Saturday, February 12, 2022 .Meeting Minutes are posted below.
2/24/21 - The Annual Meeting was held on February 20, 2021. Meeting minutes are posted below.
2/22/21 - The 2020 Annual Meeting minutes have been amended and are avaliable below.
1/20/21 - Snow Removal Clarification – after 1.5 inches have fallen and it is no longer snowing one of the Board Members will contact the HOA's vendor for snow removal. The HOA will not remove snowfall less than 1.5 inches and will not remove ice.
___________________________________________________________________________
HOA Dues: $75/month for attached homes & $85/month for detached homes (due by the 25th of each month)
Please send checks payable to:
Fountain Greens Patio Homes HOA
2650 North Ave #116
Grand Junction, CO 81501
Or to pay online click here.
Transfer Fee: $100 payable to Heritage Property Management & $100 payable to Fountain Greens Patio Homes HOA ($200 total)
Insurance Provider: State Farm - LaVonne Gorsuch - 970-243-1117
HOA Responsible for: Management, Liability Insurance, taxes, landscape of Common Areas and front yards, irrigation system for common area, winterize and startup for individual properties
Schools: Appleton Elementary, Fruita 6/7, Fruita 8/9, Fruita Monument High
_____________________________________________________________________________
Welcome to the Heritage Family of Services! All questions should be directed to info@hpmgj.com. We are excited to work with you and assist you in the support of your HOA. Please let us know how we may serve your needs!
Minutes
Custom Documents
---