Spanish Trail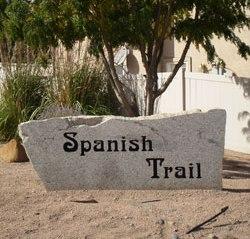 7-26-17--Spanish Trail Annual Meeting will be held on Monday, August 14th at 5:30 pm at Mesa County Central Library (446 N 6th St). Packets are in the mail at this time so please look for them in your mailbox! If you are unable to attend the meeting, please sign and return your proxy. Thank you!
3-31-17--PLEASE READ: LiquiGreen will in the Spanish Trail neighborhood beginning the week of April 10 to do the spring irrigation start-up. If you home's water shut-off valves are located inside the home, in the garage, or in the crawlspace, please call LiquiGreen [970-256-1928] to schedule an appointment for that service. LiquiGreen needs to group these homes together for ease of service and to finish the task in a timely manner. Homeowners with indoor valves who have not contacted LiquiGreen to set up a time by April 28 will be charged a $50 fee for LiquiGreen to make a service call. Irrigation water will available to homeowners after that time. It is each owner's/tenant's responsibility to set the timers and adjust sprinkler heads in your yard.
3-31-17: LiquiGreen will do regular mowing in the Spanish Trail neighborhood each Friday morning. Please DO NOT water your lawn after midnight on Fridays or your lawn may be too wet and may get damaged by the equipment.
3-30-17--REMINDERS:
1. The city of Grand Junction prohibits portable basketball hoops being left on sidewalks or streets. After you are done playing at the hoop, you must roll it back onto your private lot and it must be left on a concrete surface [do not leave in any landscaped area]. Offenders can be reported to GJ Code Enforcement.
2. On street parking within the Spanish Trail neighborhood is not allowed. Parking in LANDSCAPED areas [including graveled areas] is NOT allowed. If you need addtional space, please contact Heritage Property Managment for information on getting a space in the RV lot [$10/month for each space]. Fines may be assessed for violations.
3-6-17--LiquiGreen will begin shrub and bush trimming in the neighborhood within the next 2 weeks--they cannot say when they will be at any specific address as that depends on what needs to be done at each home.
3/6/17--LiquiGreen will be in the neighborhood this week [March 6-10] to apply the pre-emergent weed spray for the year.
9/28/16--Monthly statements are mailed only to homeowners are behind in paying dues. Heritage is now sending out a monthly e-mail reminder to all homeowners who have provided us their e-mail address that dues are payable as of the first of each month. If you want to be added to that list, please send an e-mail to info@hpmgj.com with your information.
9/8/16--The Spanish Trail HOA annual meeting was held on Aug 25, 2016. Please read the minutes posted here to see what was discussed.
4/15/16--TRASH CANS ARE ONLY ALLOWED TO BE OUT FROM 7AM-8PM ON PICKUP DAYS! You may be fined if they are out on the sidewalk or if they are visible from the street at other than those times. The reason for changing the times is to prevent wildlife [bears, coyotes, etc] from entering/roaming the neighborhood.
Welcome to the Heritage Family of Services! All should be directed to info@hpmgj.com. We are excited to work with you and assist you in the support of your HOA. Please let us know how we may serve your needs!
Minutes
Custom Documents
---